Present your menu on your guest´s mobile phone.
Especially in times of Corona, your guests are much more sensitive when it comes to what they touch. This also applies to your food and drink cards! An online QR code menu is the practical alternative!
Why using a QR-Code menu?
Save time and money! You will not have to clean your Menu over and over again. With a QR-Code Menu, your guest has the opportunity to check your menu by mobile easily.
Your benefits using
QRMenu-Online
Even though, from a marketing perspective, it makes sense to have your own webiste – we all know that in these times we all try to reduce our costs. Therefore, you can now rent your online menu for a small amount of money and do not need to take care of maintaining the website.
Choose your Design
Choose between a classic or minimalistic design – or use your own! Of course, the displayed layouts can be customized so they fit to your corporate design.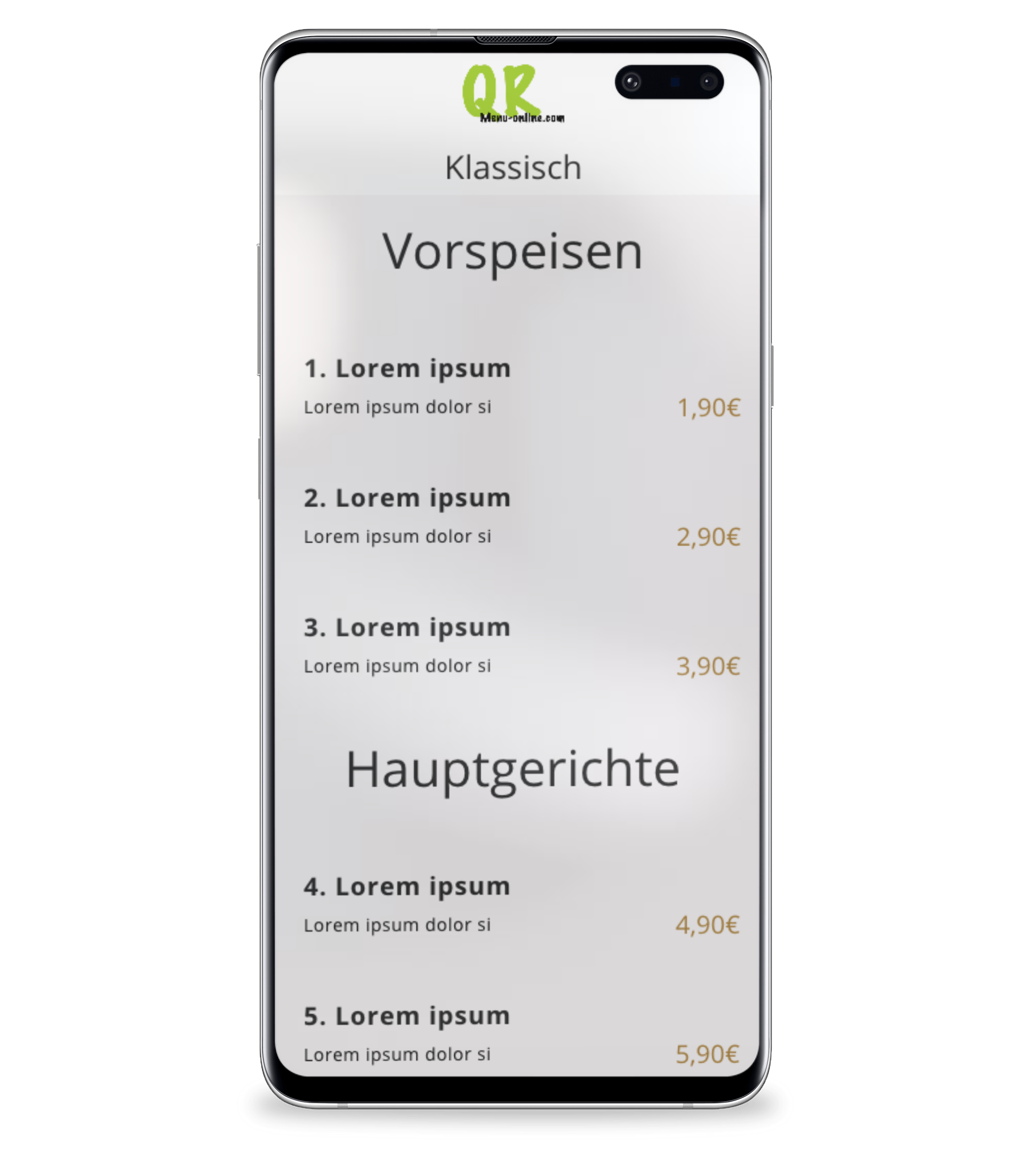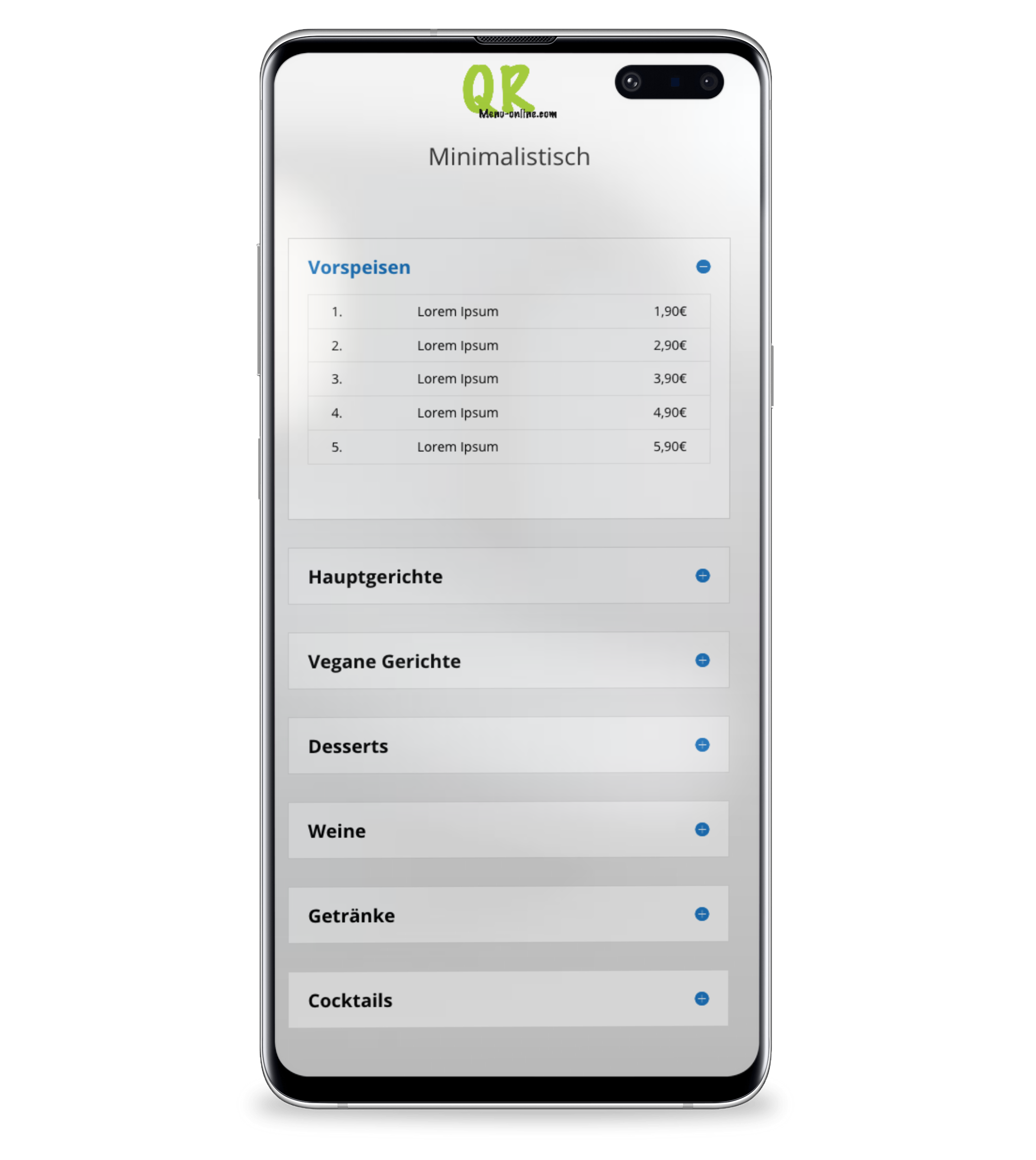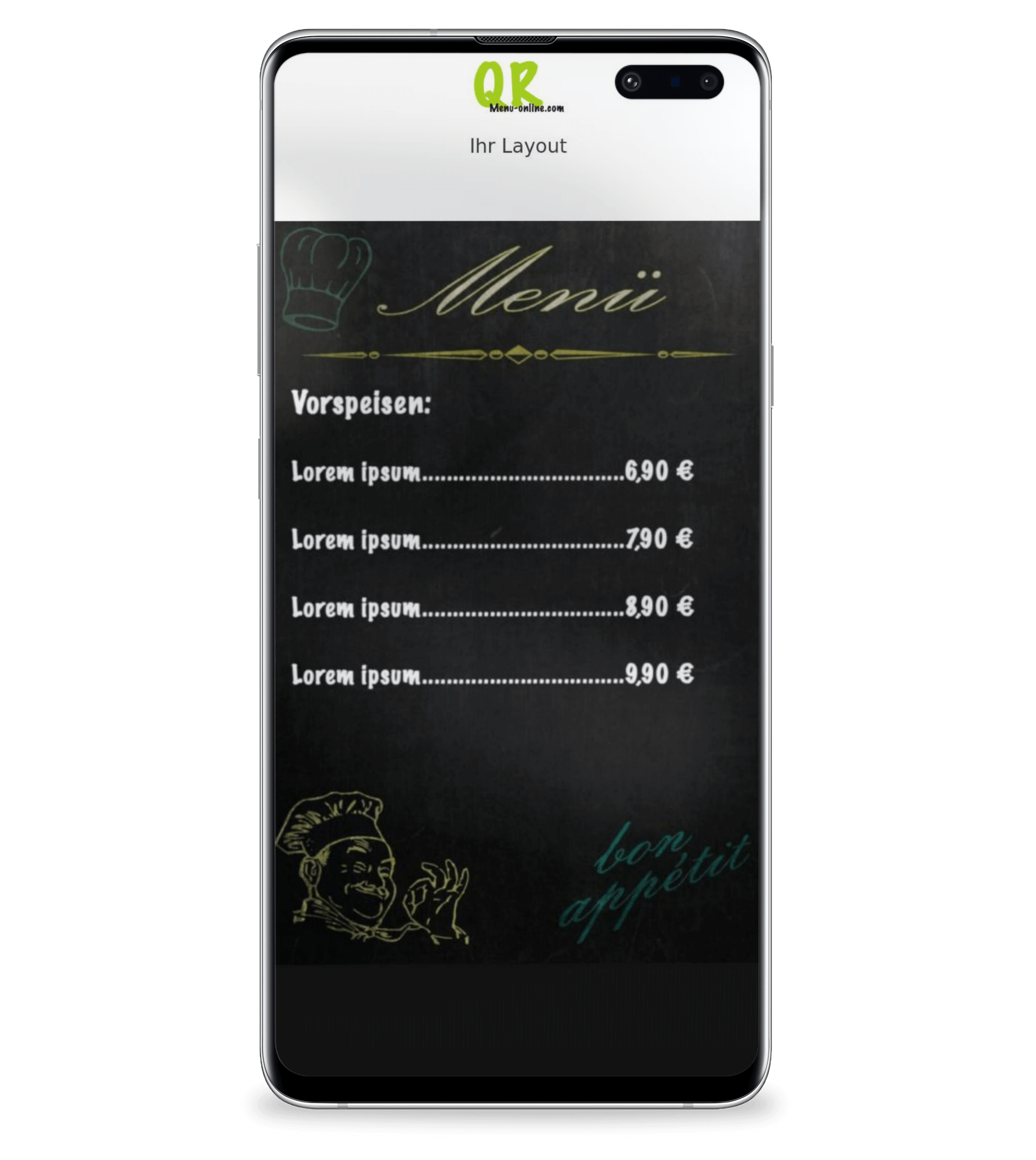 You want to stay flexible?

Choose our monthly plan! Minimum term: 3 months
You want to save big?

Choose our annual plan and you will receive 2 months free of charge.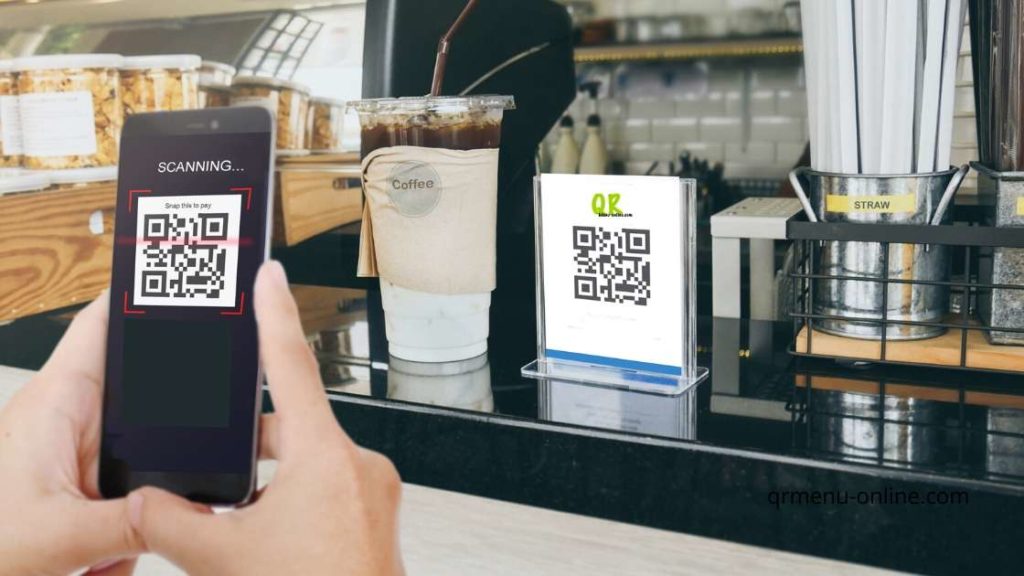 Your menu online
We create your design and publish your menu online.
QR-Code
We build your QR-Code that you can ≈use instead of your menus from now on.
Maintenance
We take care of the necessary website updates.
Frequently Asked
Questions
What services are included?
– Hosting
– external licenses
– maintenance
– software updates
– buck fixing
– backups
– changes to your menu 4 times a year on an annual plan
– support
Is there a minimum term?
The cancellation of the annual plan must be received by us in writing for 3 months. Otherwise, the contract is automatically extended.
In the case of monthly payment, the minimum contract term is 3 months, which must be paid in advance.
Who is responsible for content?
It is your menu, so you are responsible for all content. We assume no liability for the labeling of your products with regard to allergens etc.
Can I take care of changes myself?
In our annual plan, you can request for small changes in content up to 4 times a year, which we will then implement accordingly. If the edit takes more than 30 minutes, we will charge by hour.
In our monthly plan, the effort is calculated according to time.
Can I link to Social Media?
Yes, it is possible to include links to Facebook, Twitter, LinkedIn and Instagram. The so-called "Like" button is unfortunately excluded for legal reasons.
What about the payments?
In our monthly plan, payment for the minimum contract period (3 months) is due in advance. From the 4th month we will send you an invoice.
In the case of annual payment, an advance payment of 50% of the price must be paid. We will send you a corresponding invoice for this. The remaining 50% are due upon completion. Your QR menu will be published after receipt of payment.